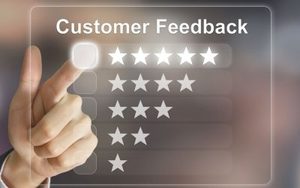 Customer Feedback service best talking about for business
You probably spend a lot of marketing dollars on customer acquisition, but how much do you spend on keeping existing customers happy? It's easy to push customer service to the bottom of your to-do list when you are — or aren't — growing at the desired pace. Everything else seems more important — marketing, product launches, writing code.
But consider this: 51% of consumers say they will never do business with a company that delivers one bad experience. It doesn't end here though; word about bad customer service spreads faster than praise for your service. A study by American Express found that U.S. consumers will tell an average of 15 people about a poor experience, as opposed to 11 people about good customer experience. 
Great customer service, on the other hand, can help you retain customers and grow your revenue. After all, 7 out of 10 U.S. consumers they spend more money with companies that deliver a great customer experience. 
Bottom line: Invest in good customer service experiences. It pays off. 
There's a lot of advice out there on customer service, but we've rounded up the best practices that are not often talked about. 
Take a look at the best ways to make your customers your biggest cheerleaders:
1. company-wide priority for make customer service
The job of delivering great customer experience shouldn't simply belong to your customer service execs. Sure, they're the face of your company and interact with customers feedback on a daily basis, but the rest of your team should be mindful of your customers too responses. 
Right from the CEO to the marketing team to the human resources department, great customer experience must top everyone's priority list. Only then, no matter what you do — designing a new logo, launching a product, sending out your weekly newsletter — it will reflect your commitment to customer happiness. 
How do you foster a customer-centric culture? Jeff Bezos, CEO of Amazon, famously keeps an empty chair in every Amazon meeting. As you may have guessed, this chair signifies the customer, the most important person in the room.
This is a good way of metaphorically indicating the importance of the customer, but there are a few tangible steps you can take too. 
To help your team sympathize with customer issues and anticipate needs, share customer feedback on a company-wide bulletin. 
Make customer surveys and data available to everyone, so they can see exactly where there is scope for improvement. 
If possible, allow members from each team to do customer support at least once a week. It will help them connect with people who use your product. 
Facilitate direct contact with customers by way of sales calls, social events, and conferences.
Make customer-centricity a criterion for hiring, no matter what the role is. During the interview process, ask questions to gauge how tuned the person is to customer needs. This will ensure every new recruit understands the importance of customer service. 
2. Make bad customer experience an opportunity to impress and target in Ahmedabad
It's fairly easy to deal with customer queries, but it might be tricky to deal with a harrowed customer. Don't get disheartened if you get too many of these, in fact, use them as an opportunity to woo the customer. A simple framework by Disney, called H.E.A.R.D, should do the trick. 
Hear
Sometimes, all a customer wants is to vent their frustration. So, even if their complaint seems unfair or it isn't your fault, listen to them. Be sure not to interrupt with a justification or an apology. 
Empathize
After hearing what the customer has to say, express that you understand their plight and would react the same way if you went through a similar experience. Empathy goes a long way in building trust with the customer and helping them remember your brand in a positive light. 
Apologize
Even if the customer's tone is unreasonable, or their complaint is unjustified, do apologize to them. At the end of the day, a customer spends precious time and money on your product and deserves respect. An apology shows the customer you care and are willing to improve.
Resolve
An apology is not enough, of course, and you also have to resolve whatever issue the customer is facing. Your website could be malfunctioning or the customer's payments may not be processed or your app breaks down.
Either way, try to resolve their problem as soon as possible. If you need to transfer them to another department, do it in a frictionless way. Don't make the customer wait endlessly or add more steps for them to follow. And do not, under any circumstances, keep the customer waiting for days on end for a resolution. 
Diagnose
Once their issue is successfully resolved, thank the customer for their patience and tell them you look forward to serving them again. Next, diagnose what went wrong in the first place. Was it a bug in your system? Was it a constantly requested feature? Did they not find your service fast enough?
No matter what, make sure to bring it to the notice of the concerned team and fix it. A large part of customer support is not simply dousing fires, but also making sure they don't arise in the first place. 
3. Keep a constant tab on customer requests, everywhere  

There are so many ways for customers to talk to you — and about you — social media, blogs, review sites. If you want to keep a pulse on what customers think about, you'll have to keep a tab on the chatter around your brand — all over the web. 
A social listening tool such as Mention can help you keep track of any word about you on the internet. Once you've found a piece of feedback about your brand — good or bad — make sure you respond to it. 
If it's a good review, thank the customer for their valuable business. If it's a complaint, reply to it as gracefully as possible and make sure the issue is resolved at the earliest. 

Companies such as Slack keep a track of new feature requests and feedback about the app on Twitter (they call them #beeftweets). Often, these are little things the company can fix, but it gives their customer service a big boost
4. Personalize customer experience
Personalization is the key to great customer experience. Where other services give them a cookie-cutter experience, you can give them exactly what they want and sweep them off their feet. Take Netflix, for example. The company perfectly captures user intent by closely monitoring their interests and serving them exactly what they want to watch.
Another company acing personalization is Amazon. The company keeps track of a customer's purchase history, and gives them products and offers related to these actions. The more you personalize a customer's experience, the more likely they are to remember your service. 
While the two examples above are for online services, you can personalize customer experience as an offline service too. Here are a few ways to add that golden touch to your services, no matter what type of business you are: 
Track customer activity: Whether you're running an e-commerce store or a brick-and-mortar shop, it pays to keep a tab on what they buy on a regular basis. This way, the next time they visit your store, you can show them the exact products that they'd like. 
Create customer profiles: This is again possible to do online as well as offline. A customer profile, with their name, address, occupation, and more, helps you personalize the experience in a variety of ways as we'll see below. Depending on the type of product you sell, you can also ask customers to include their preferences while creating this profile. For instance, if you sell baby products, you can ask them the age and sex of the baby, so you can present them with relevant offers and products, from time to time. 
Segment email subscribers: Remember the customer profiles you created? This is where you'll want to ask for their email too. Regular email updates are a great way to keep your product on the customer's mind, even if they aren't actively buying at the moment. To make this experience personal, you'll want to segment customers based on those who frequently open your emails, their age, location, and so on. This will ensure your emails are relevant and timely. 
Store information to save time: Again, customer profiles will help you here. Using the pre-stored address and billing information, you can provide customers with a quick and smooth checkout experience. 
Provide great after-sales service: It's easy to send a thank-you email after a customer has purchased from you. But if you truly want to stand, think outside good old email. Why not send a handwritten thank you note to your customers? If that does not seem viable, you can also use other, more personal platforms such as Snapchat, Whatsapp, and Instagram to thank customers for their business. 
5. Make sure your self-service tools are in place 
"I love talking to customer service executives," said no customer ever.
In fact, customers would rather solve problems on their own than write or speak to you. To empower them to do this, make sure your self-help tools are up to snuff. This includes pages such as FAQs, pricing, help, and support. 
Highlight your most popular FAQs and use video, audio, and screenshots where necessary. To help customers easily navigate your help pages, include a search bar and tag your pages appropriately.
If you have the resources, you might want to include a public customer service portal on your website. Here, a customer can post their queries and receive answers from your team members and also other customers. This will help you save time and benefit other customers too.  
6. Make it simple to reach you in Ahmedabad
There will be instances when your support pages will not be enough and the customer might need to speak to you. Thus, be sure to include as many methods of reaching you as possible on your website. Live chat, email, social media, phone, include as many means as you can possibly handle at a time. If you do include a live chat option, make sure your team is present at all times to monitor it. 
When a customer calls you, don't make them listen to an endless automated message. It might be tempting to add your latest features, benefits, and offers as part of the automated message customers hear when they call you.
Remember, distressed customers are rarely in the mood for advertising. All they want is a resolution for their problem. 
If customers email you, reply in half the time that you promise on your website. Make email templates for common queries, so you don't have to waste time typing fresh replies each time. 
Social media is increasingly becoming a preferred way for customers to reach their favorite brands. First, set up an active social media accounts on platforms such as Facebook, Twitter, Snapchat, and LinkedIn. Second, be quick in replying to queries and resolving issues. Finally, remember, every interaction you have with customers on social media is public. So, its best if your replies reflect humility, wit, and your brand's personality. 
7. Go out of your way to 'Wow' customers in Ahmedabad
Meeting a customer's expectations is good, but exceeding them? Now that's an experience they won't forget. Small acts of consideration will not only win you brownie points with a customer but also win you some love on social media. 

Take the example of Gaylord Opryland Hotel. A regular customer of the hotel wished to find the alarm clock the hotel used, as it helped her sleep better at night. When she failed to find one, she tweeted to them. Much to her delight (and that of her Twitter followers), the next time she visited them, they had two clocks in her room — one for her to take home. 
Here are some ways you can add that extra layer of care for your customers: 
If you sell an online service/product, send your best customers an offline gift once in a while. 
When your customers submit an unusual request, such as asking for home delivery when you don't normally offer them, fulfill it and make their day.
Customers might sometimes present you with impossible deadlines, but if you can fulfill them, that's a great way to wow them. 
Provide genuine customers with a replacement or refund if they're unhappy. This may not always be possible or viable, but once in a while if a customer says they didn't like your food, or your product disappointed them, you can always act on their feedback. 
Mark special occasions such as birthdays and anniversaries. You've probably witnessed a rendition of 'Happy Birthday' at your favorite restaurant or mall. Even if you're not into the hospitality business, you can always send special greetings to your customers by email or post. 
Random acts of kindness will help customers remember your brand long after they've used your service. 
8. Communicate in a positive and clear way in Ahmedabad
The way you talk to customers makes a big impact. This might not be a revelation, but negative language can stress them out. On the other hand, the positive language will reaffirm their faith in your brand and put them at ease. 
If a customer asks a question about your product and you're not sure of the answer, you might end up saying, 'I don't know Sir, please speak to so-and-so".
A better way to phrase this would be, 'Great question, Sir. My colleague XYZ will be able to help you with this.'
No matter what the query, it is best to avoid negative words such as don't, can't, and won't. It might help to have a playbook handy with common situations and how to handle them without using negative language. This will help your team be on the same page. 
You might like: Write awesome customer service emails: Rules and templates
Now, just because you have a playbook with phrases to use doesn't mean you sound automated and formal. As far as customers are concerned, your tone plays as important a role as the words you use. Thus, you want to keep it casual and let your natural personality seep into your conversations.
For instance, when transferring a call, avoid saying, "Your call is being transferred." This sounds rather stilted and formal.
Instead say, "Hey Mark, I am transferring your call to the billing department, where my  colleague Stacy will help you out."
9. Invest in a good customer support tool 
This might sound like a no-brainer but a lot of businesses tend to skimp on it. They believe good ol' Gmail is good enough for teams to manage the support@ inbox. But when customer queries begin to pile up, and worse, slip through the cracks, only then do they realize the value of a customer support tool. 
Meet Hiver. It helps your team assign customer emails to the right team member – follow up on customer queries – keep track of whether a query has been solved – and send customer satisfaction surveys. With analytics, you can see which emails take the longest to reply to, which team members need more coaching, and how quickly you respond to customer requests.
Wrapping up
Savvy businesses look at customer service as an opportunity, not as an expense. Great customer experiences not just make them your loyal followers, but also your biggest brand ambassadors. We hope the list above helps boost your customer service efforts.